Donald Trump's potential return to Twitter won't be a big deal according to the social media company's future owner, Elon Musk, who ridiculed the reaction to the news in an interaction with the Dogecoin cryptocurrency co-founder.
Musk, whose $44 billion offer to buy Twitter was accepted by the company last month, recently said he would reverse a "morally wrong" permanent ban on the former US president.
The billionaire said in a financial times conference on Tuesday: "Banning Trump from Twitter did not end Trump's voice. It will amplify it among the right and that is why it is morally wrong and completely stupid."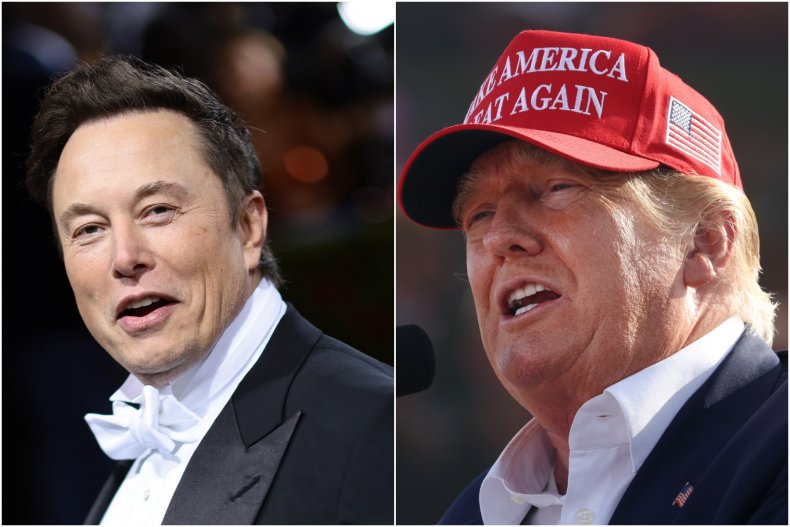 Musk said that if he becomes the owner of Twitter, permanent bans will be reserved for bot and spam accounts only and that temporary bans or tweet removal could be the course of action for people who break the rules with illegal tweets or harmful.
However, he expressed doubt that Trump would return to Twitter even if the former president's ban were reversed, stating, "He has publicly stated that he will not return to Twitter and will only be on Truth Social."
Truth Social is Trump's own social media platform, which was created after Trump's Twitter ban in January 2021 as a result of what Twitter called "risk of further incitement to violence" following comments he made about the riots on Capitol Hill that were carried out by his supporters.
Musk commented further on Trump's hypothetical return to Twitter Tuesday night in a tweet thread with Billy Markus, a software engineer known as one of the creators of the Dogecoin cryptocurrency token.
Markus tweeted: "If Donald Trump goes back on Twitter, this is all that will happen. One, he won't use it, or two, he will make a single tweet saying 'this site is actually bad social' or whatever it's called. Doesn't matter, adults don't need to have another meltdown, ffs."
Musk replied: "Exactly."
In another Twitter exchange, Markus said, "Hi, I'm a medium here to promote propaganda and try to control people by giving them crisis and rage," to which Musk replied, "Haha" with the hundred point emoji, which indicating that Markus was absolutely right.
The return of Trump's Twitter?
However, Trump's presence on Twitter can be hard to ignore. The former president was incredibly popular on the site with both his supporters and his critics, regularly posting controversial tweets that garnered a lot of attention. He had around 67 million followers.
It's also unclear whether Trump would actually stay away from Twitter if he were allowed to return, perhaps because of the exposure it would give him and possibly because of Truth Social's troubled start and lackluster growth.
In any case, Musk's comments about allowing Trump back on the platform drew criticism from some Twitter users who have used the buzzword "Dear Elon Musk" to voice their concerns. Self-proclaimed Gen Z activist Jack Cocchiarella, whose cheep garnered more than 100,000 likes, he wrote: "Dear Elon Musk, please keep Trump off Twitter. Sincerely, all Americans."
One supporter, right-wing commentator Stacy Washington, wrote: "Dear Elon Musk, please continue to drive these leftists crazy."