Instead of having to wear a helmet full of gear, the HTC Vive Flow VR headset can help you experience virtual reality wearing what looks like a thick pair of sunglasses. The HTC Vive Flow covers your eyes and rests on your ears with its foldable temples. Although it's an obvious design, it's still a novel attempt to bring people into the metaverse, or rather, the world of virtual reality.
There are a few different VR headset options on the market for consumers, but the only one that really matters right now is the Meta Quest 2. It's the general purpose unit that has all the developer and software drive. So aside from seeing how the Vive Flow performs on its own, it's worth comparing it to the Quest 2.
While the Vive Flow probably isn't quite ready for the mainstream just yet, it's interesting and pushes the space forward. Whether this headset is right for you will really depend on what you plan to use it for and whether you use an Android phone or an iPhone.
TL;RD
advantages:
Quick to set up and shareable with others
Compact unit can travel better than other VR headsets
Cons:
The phone as a controller is not ideal for long-term use
Fan noise can be loud
No iPhone support
Shop at HTC.
Entering the Metaverse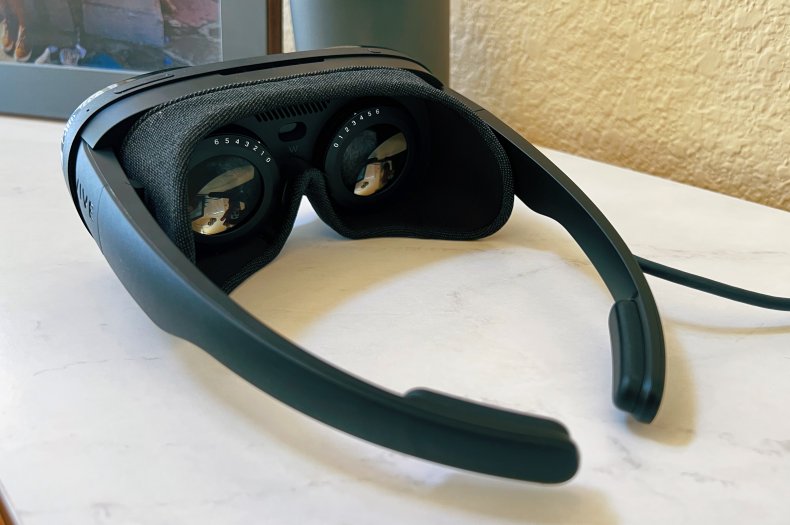 You can count me as someone who believes that the widespread use of virtual reality is on the horizon. It's too compelling for workouts, games, education and other experiences not to be used by the masses. However, the question remains: what will those conventional virtual reality devices look like? Currently, the Meta Quest 2 is the stereotypical headset that wraps around most of your face. I don't think this type of design will last long. It is simply too cumbersome.
I also hate that Meta Quest 2 is such a lonely device. It's too hard to share headsets and let others (quickly) experience VR. Adjusting the headband can be time consuming and a headache to get back to the way you like it. The default headband is just uncomfortable. Vive Flow largely overcomes this hurdle with its sunglasses-like design. It's easy to put on, take off and share.
Once everyone has their own VR headset several years from now, sharing and sizing will likely be less of a concern, but convincing people that VR is worth exploring is now critical. Vive Flow's compact design and 189 gram weight also makes it much easier to travel with or even move from room to room. Diopter dials around the eyepieces for independent eyepiece focus allow it to be easily adjustable for different people. Once they've found the optimal viewing focus, you can reposition it with a few turns of the dial.
However, this is where the advantages of the Vive Flow largely stop: its physical design. It relies on a phone as its controller. It doesn't have the same immersive feel as the Quest 2, despite each having nearly the same field of view. Fan noise is not inconsequential and can be quite loud.
I noticed that there aren't many intense workout apps out there for Vive Flow, but that's probably because Vive Flow might crash when doing full-body workouts. I wish there were more apps and experiences in general, especially free to get you hooked. The ones that were free were as basic as they could get and didn't make me want to go back to them.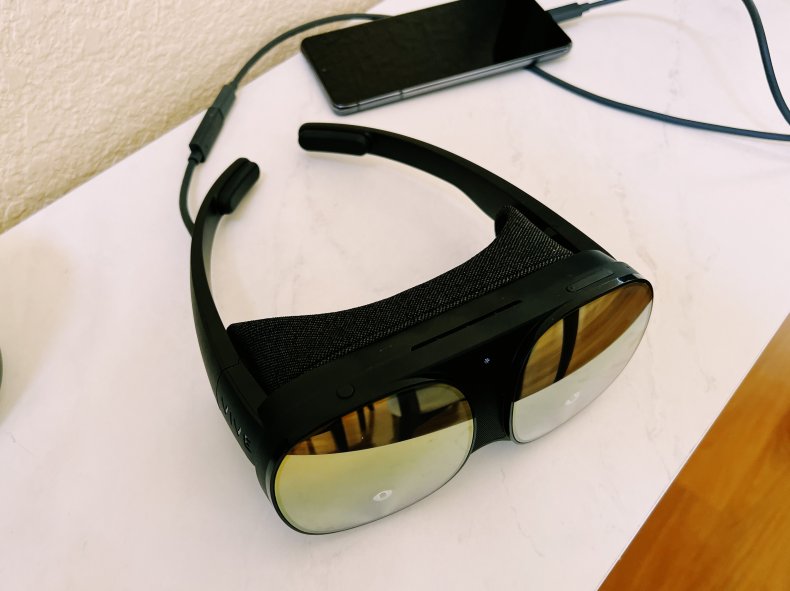 The best way to use Vive Flow is by connecting it to an Android phone with a USB-C cable. (Currently, using an iPhone is not supported.) Doing this provides power and data to the headphones. It also allows you to use your phone as a controller, pointing and clicking within the virtual world. I didn't mind using the phone's touch screen as a controller at first, but would have preferred a dedicated pointing stick of some sort.
The part I didn't like about the phone being a pointing device was using it to type on a virtual keyboard in VR. Meta Quest 2's hand controller is a bit better at this because it has physical buttons and a faster pointer response.
Best feature of Vive Flow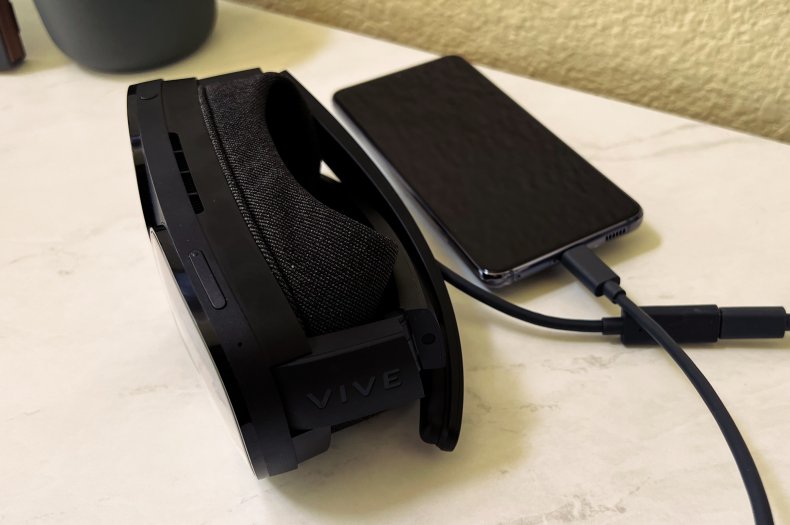 The most compelling use of Vive Flow right now is to mirror your phone. By doing this, you will see your phone screen inside the headset. The idea is that you can stream movies and shows from any app on your phone as a personal and private viewing experience. HTC says: "Broadcast phone apps to a private big screen in VR."
Using the phone as a pointing device to type on a virtual keyboard while looking at your phone screen in VR is annoying. Even if you're not logging into many apps, you may still want to find something to watch. Even typing website and email addresses takes too much time.
The mirroring feature is sold as a way to consume media from your phone. The benefit of doing this is having the appearance of a large screen right in front of your face. Maybe you want to watch TV in bed without disturbing your partner. There are dozens of scenarios this could be useful for, but basically, it could replace carrying around a tablet to watch shows and movies.
Your Android phone will need to support Miracast to stream videos from apps like Disney Plus. (This is due to content copy protection.) You will still be able to mirror your phone if it does not support Miracast, but the mirroring and/or streaming feature will be less useful. As it stands, I found mirroring my phone compelling only for short periods of time, probably due to its novelty. Is it useful in the long term? I have my doubts.
TCL has also been exploring this world of glasses used as a personal monitor. The TCL Nxtwear G can connect to a phone or computer and display content right in front of your face. There is no VR component, which makes it an even slimmer and more focused product, in my experience.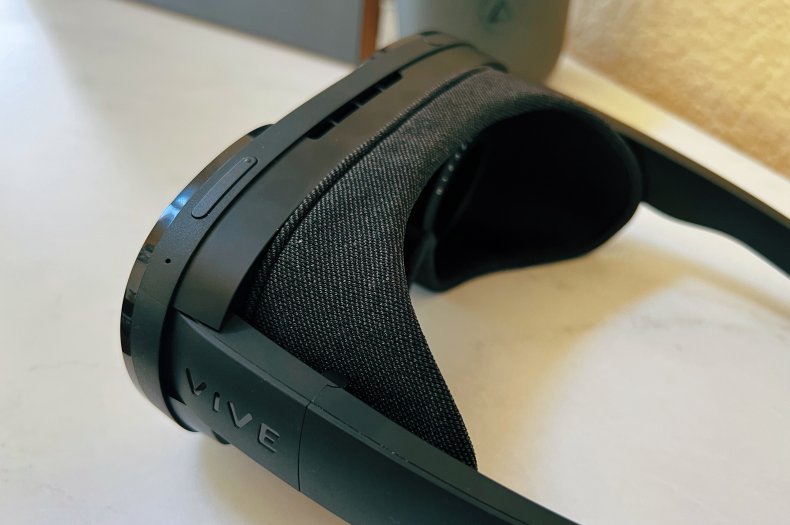 Should you buy the HTC Vive Flow?
The HTC Vive Flow raises an intriguing possibility of what the VR headset of the future could look like. The problem is that there are still many things that leave much to be desired. While Vive Flow is more affordable than Meta Quest 2 because it doesn't cover the whole head, people will probably want to use it for less time with few cool apps available.
If the idea of ​​a private viewing screen to stream movies from your phone is a driving use, I'm mixed on this, it's still not a painless experience. The device pushes the boundaries of what is technologically possible, but it still doesn't deliver on its promise.
The HTC Vive Flow is fine, but I think average consumers will be disappointed with it at this point. If Vive Flow were much less expensive (like under $200) or if there were the same number of top-tier apps available for Meta Quest 2, this recommendation would be a lot different. As it stands, the Vive Flow is a cool demo that hopefully makes for a more refined device.
Buy it from HTC for $499.
Newsweek may earn commission from links on this page, but we only recommend products that we endorse. We participate in various affiliate marketing programs, which means we may receive commissions paid on editorially chosen products purchased through our links to retailer sites.